Who's

Online?

We have 62 guests and 3 members online
Beasley Hutton
Unholytugboat
swan42
Newest

Footy Recruits
GFY2018
Stand the Test
Leafs2017
thefloglife
Footygod


| Category:
Past & Present Player's Interviews
| Thursday, 20 June 2013 08:58 | Written by Ron Head | Hits: 2368 |
It took Claremont forty years to unearth a full forward capable of emulating the deeds of the great George Moloney, who headed the WANFL goalkicking in 1940 with 113 goals, after kicking 109 for Geelong in 1932 to top the VFL list.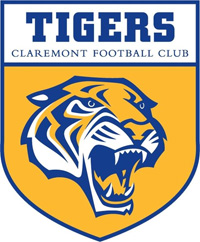 Moloney was an out and out champion, Sandover Medalist, runner up for the Brownlow, coach of Claremont and Western Australia, and has legendary status in the WA Football Hall Of Fame.
The defection to South Fremantle of the  first Tigers player since Moloney to head the goal list, Norm Uncle, in 1979, opened the door for an emerging young forward, who was already showing plenty of ability. Warren Ralph proved to be an outstanding full forward over four seasons, tying controversially with Swan Districts goalsneak Simon Beasley on 82 goals in 1980, and then dominating the local scene, booting 120, 103, and 123 in the following three seasons.  
In 1980 Ralph actually kicked eighty seven goals, which would have won him the award outright, but a five goal haul in a match while Beasley was away with the State side in Melbourne was disallowed.
Son of Bill Ralph, who played forty eight games with Subiaco, Warren was groomed as a goalsneak from his junior days at Floreat under the mentoring of Gus Glendinning(father of Ross), but had self- doubts about his ability. Playing at Dalwallinu as a seventeen and eighteen year old, he was cleared by the country club to Claremont on his return to Perth in 1978, but  requested they change his new club to Floreat Amateurs.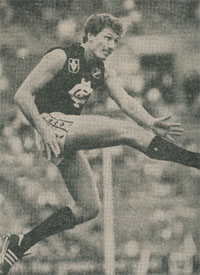 A thirteen goal performance in game one prompted one of the Floreat coaching staff, Gary Bradshaw, to tell him to go and have a run at Claremont. Torn between a promising cricket career with Subiaco-Floreat as a fast bowler, he didn't take the winter sport seriously enough initially. " I was presented with a cash offer to play football, and although not involving big bucks I decided it was better than bowling twenty overs and fielding at fine leg on a Saturday afternoon," he said. 
Ralph learnt his trade with the Tigers colts in 1978 and reserves in 1979, before bursting onto the league scene with five goals against East Perth in round one of 1980.   
A player in the mould of the traditional goalkickers, likened in style and size to South Fremantle's ace Bernie Naylor, Ralph was a strong, fast leading, and safe marking forward, with  long kicking and goalsense completing the package. Centuries of goals in his first four seasons of league football quickly grabbed the attention of the Eastern Seaboard, with Carlton and Melbourne showing keen interest. In no hurry to make the move, Warren was outstanding in a strong Claremont combination, his 120 majors over the season a big factor in Claremont's 1981 premiership win over South Fremantle. "It was a terrific game, one that many rate as among the best," he recalled. 
Ralph's entry onto the Interstate scene was equally as auspicious.
Taking over at full forward from Beasley, he booted four on debut against South Australia on a day that was forecast to be wet. "Mal Brown told me at a team meeting the day before that if it rained I would be out," he said. "It turned out as wet as they said it would be, but he changed his mind and I played."
Warren  followed that up with two bags of five in clashes with South Australia and Victoria. His contribution to WA's goal tally over six games was twenty one.
Ralph finally committed to the Blues in 1984, signing the last form four in Australia, and at the age of twenty five was among five players who made their VFL debuts against North Melbourne in the opening round of that season. The others were Tom Alvin, Wayne Blackwell, David Honeybun, and Fraser Murphy.
If the Carlton hierarchy was pleased when their new goalsneak booted nine goals against the Roos, they would have been ecstatic with his follow up effort of six in game two opposed to Fitzroy.
He had a controversial initiation to ANZAC Day football at Waverley in the clash with Collingwood when the recipient of a free kick after the final siren with the opportunity to win the game. The shot was adjudged a behind by the goal ump, but there were many Carlton fans behind the goal who disagreed with the decision. "The video was done to death on TV next day, and it did look a bit suss, but the goal ump had unfortunately slipped at the vital moment and may have been unsighted."  
After an explosive start, Ralph  struggled, as he became the focus of opposition attention, and was eventually dropped from the league side. Selected for the Qualifying Final against Hawthorn, he seized his opportunity with both hands. Warren set a Qualifying Final record with eight goals,to no avail, as the Blues went down by thirty points, but his fifty five majors, despite missing games, was enough to head the Carton goalkicking list that season. 
It was to be down hill in 1985, a knee injury preventing him from displaying the form he was capable of, spending most of the year with the reserves, and in 1986 he was part of a reserves premiership win. "Robert Walls was full of whiz bang ideas, and was in conflict with many of the team," Ralph recalled. "We had a falling out."
When Fitzroy and North Melbourne approached the West Australian to transfer to them, Carlton whacked a price on his head. "I reckoned I'd stuff them up by going back home," he said.
Warren Ralph turned his back on Victorian football with a sense of frustration, undoubtedly capable of starring on the big stage, but unable to achieve consistency. His final tally of seventy two goals from twenty one league appearances was certainly a respectable one.
Back at Claremont Oval in 1987, he collected seventy five goals and another premiership before transferring to Glenelg the following season. After an ordinary year at the South Australian Tigers, hampered by a cracked ankle,Warren returned home at the end of the season with intentions to retire, but decided on one more year, which turned out to be a good choice. He kicked another seventy five goals, taking his career tally to 564, as Claremont romped to a sixty seven point win over South Fremantle in the grand final.
Calling it quits after a hundred and twenty three games with Claremont, twenty one at Carlton, and a season at Glenelg, Ralph coached Gidgegannup to a premiership in the Hills Association.
These days Warren is busy as Operations Manager, Metro, of Contralflo, a privately-owned Western Australian company specialising in electrical distribution, civil contracting, and traffic management. Along with other environmental initiatives, they are leaders in environmental governance in this country.
He has three girls..Shannon, Erinn, and Morgan, who have inherited the Ralph sporting genes.
He wouldn't be drawn on who was his toughest opponent, "they were all tough," but gave a special mention to Swans Tom Mullooly and John Hayes from East Perth, as well as Kelvin Moore(Hawthorn).
Warren Ralph's feat of four successive Bernie Naylor Medals ranks highly in WAFL records, only bettered by two greats…George Doig(East Fremantle), five between 1933 and 1937, and Austin Robertson(Subiaco), five between 1968 and 1972. Naylor got the hat trick twice but two other great forwards, Ron Tucker(Perth) and Ray Scott(West Perth) prevented a fourth in a row. 
Ralph exhibited his class in Western Australia, Victoria, and on the Interstate stage, but injury prevented him from reaching the heights that many predicted for him early in his career. Nevertheless, he is remembered as a top flight goalsneak for Claremont, Carlton, and Western Australia.